Andrew Lam, Green Finance Advisor of Friends of the Earth (HK)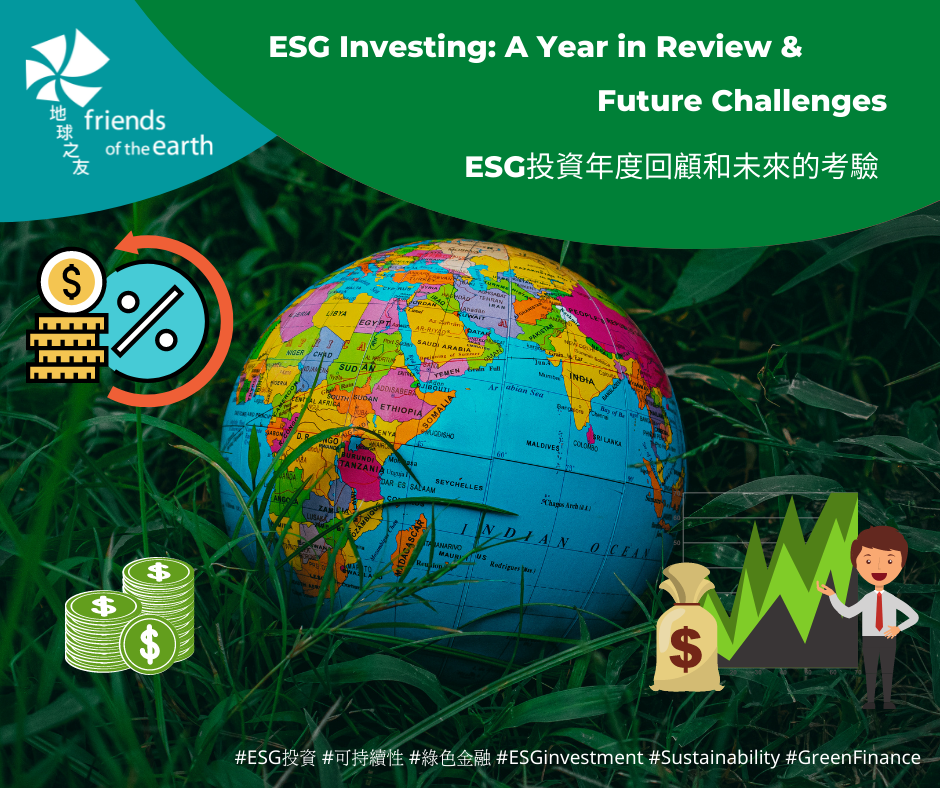 ESG Investing is arguably no longer a niche in the investing world. It is no longer the purview of the select social and sustainable minded investor, and has become something integral to the investment process from highly institutionalized pension funds and insurance companies to the mom-and-pop retail investor.
2020 was the year which saw significant uptick in investment and issuance of ESG related investment products, and if anyone thought that was just a one-off event, they would be sorely mistaken, as 2021 has continued the strong investment flow and new product issuance in the ESG universe. As can be seen in below chart, the acceleration in accumulation in assets under management for ESG assets that began in 2020 has continued into 2021.
Global ESG Exchange Traded Funds
The following exhibits show the number of issuances of new ESG ETFs in a year, and as can be seen, 2021 is continuing the strong record set in 2020.
ESG investments as compared with non-ESG investments
It should be noted that all these interests and investment inflows are backed up by strong performance in ESG investments as compared with non-ESG investments. Take the MSCI World SRI index for example, the year to Nov 30, 2021 return for the MSCI World SRI index is 22.75% versus the MSCI World index of 17.3%, an outperformance of 5.45%.
This is a continuation of the strong performance witnessed in 2020, where the MSCI World SRI index returned 20.48%, versus the MSCI World index's return of 16.5%, an outperformance of 3.98%.
ESG Debt Issuance
In addition to the positive developments in the equity markets, 2021 has seen a stronger proliferation of ESG investment products in the fixed income space, whereas Investment Grade green bond new issues previously dominated issuance, 2021 saw a sharp uptick in ESG debt issuance in the High Yield space. In fact, both investment grade and high yield has seen record issuance of ESG debt in 2021.
Given the positive developments in the ESG investment universe especially in 2020 and 2021, it is now difficult to imagine investment without ESG. However, making ESG mainstream is only half the battle of the goal of making businesses sustainable. The other half is making sure these ESG reporting and issuance criteria translate to real sustainable impact.
The issue of greenwashing has not been completely dealt with and there remains a lack of empirical evidence linking ESG securities to a measurable ESG metric, for example, does a US$1 billion inflow into the MSCI World SRI Indexed ETF contribute to a measurable amount of reduction in greenhouse gas emissions?
Looking ahead in 2022..
While there is still much work to be done to make our world truly sustainable, what transpired in 2020 and 2021 with regards to ESG investing has been encouraging, however it is our collective responsibility to continue to fine tune the ESG investing process, to hold the issuers accountable to their sustainable declarations and pledges, and most importantly to be able to empirically measure and link investment into ESG products to measurable ESG goals.
REFERNCES
Graham, J. S., Prakash, A., Chandgothia, A. (2021), "ETF Spotlight: Thematic and ESG – the next legs of growth", Goldman Sachs Global International Research
Lynam, A., Karoui, L., Puempel, M., Young, M., Rogers, S., Manzo, M., Viswanathan, V. (2021), "ESG Credit Monitor: A breakout year for HY borrowers", Goldman Sachs Global International Research
MSCI Inc. (2021) "MSCI World SRI Index", MSCI ESG Research Inc
---
Visit www.foe.org.hk for more news about Friends of the Earth (HK)!
Green Finance Facebook page: https://www.facebook.com/greenfinancefoehk/
FoE (HK) LinkedIn page: https://www.linkedin.com/company/friends-of-the-earth-hk/